Fountainville, PA, is an unincorporated neighborhood near Doylestown. It's a small and tight-knit community where people treasure their neighbors and their community spirit. As with many communities in Eastern PA, there's a lot of history to be seen here, and residents love to spend time at local historic sites like Fonthill Castle and the Pearl S. Buck House.
They like to travel to local specialty museums like the Mercer Museum, Moravian Pottery and Tile Works, and the Michener Art Museum. Family friendly and outdoor attractions abound as well at places like Kids Castle and Peace Valley Park.
They'll grab a bite at the Devil's Acre Tavern, Bocelli's, or Genevieve's Kitchen. Naturally, getting around requires a reliable vehicle like a Ram truck that can get you there even in the winter. Residents here know that when they need a new truck, they can visit the best Ram dealer near Fountainville, PA.
Ram Dealer near Fountainville PA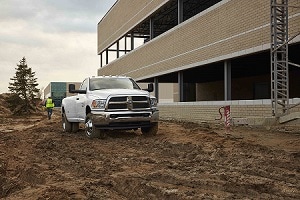 Local drivers looking for their next Ram pickup know that it can be found at the best Ram Dealer near Fountainville, PA, and in the Fred Beans Family. Our family of dealerships has served this area for almost 70 years and we plan to continue to do so, family owned and operated, for years to come. We've become the largest independent family of dealerships in PA, and we have our customers to thank for that.
Ever since Fred, Sr., opened his original service station back in the '50s, we've continued to uphold a sense of family values and genuine passion for customer service. Years later, that passion and mission statement is still what drives us. We're not just here to sell you a truck. We're here to help you find the truck of your dreams, and get you a deal you'll love just as much.
Fred Beans CDJR
At our dealership, your experience starts the moment you walk in, when you'll be treated like a valued friend or family member. We'll put you at ease right away, so you feel like you can take all the time you need to check out the Ram 1500, Ram 2500, or any truck that matches your list of features, options, trims, and configuration. Take a test drive and get a feel for it. Then, when you're ready, we'll talk numbers.
We believe that your experience should be a fun adventure, and that's why we'll work to get you the very best payment plan and interest rates possible. We want to build a relationship with you that will last for many years to come.
That also means helping you to keep your truck on the road. For that, our expert, experienced and certified Ram service technicians are here. They work from a state-of-the-art repair facility and use only genuine Ram factory parts to keep your truck running just like new. From routine oil changes to post-accident repair work, they can handle any job.
If you're ready to start your journey, stop into Fred Beans CDJR and work with the best Ram dealer near Fountainville, PA. Take your test drive today!