If you ever find yourself in Jamison, PA, you're in for a treat. Jamison is located in the heart of Warwick Township, a vibrant community with lots of interesting things to do. If you're over 21, this area is perfect for a weekend getaway. Along with the night life, the people of Jamison, PA, like to work hard and get the job done right. Ram Trucks are built with the same mentality, check out the new RAM 1500 for example.
Visiting Jamison PA
No visit to Jamison would be complete without a visit to the social center of town, the Jamison Pour House, named the Best Sports Bar in Bucks County. This bar and eatery caters to families and adults alike. Your family will love the extensive menu selection, with a huge selection of wings and an extensive menu of pub sandwiches. Adults will love the large inventory of beers on tap.
Of course, if you're looking for more of a wine adventure, then the Bucks County Wine Trail is for you. Eight world-class wineries can be found together in lovely Bucks County, including the Rushland Ridge Winery in Warwick Township. Enjoy a leisurely weekend of wine tasting, events, and winery tours, while staying in a quaint bed and breakfast. Jamison is conveniently located near the middle of the trail, so it's a great home base for a stay.
You Need A Reliable Car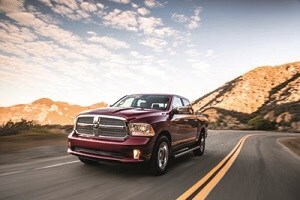 If you're planning on spending some time enjoying Jamison and Warwick Township, you need reliable transportation. For drivers near Doylestown, Horsham, and Langhorne, there is a Ram dealer nearby who can offer an extensive inventory, as well as a great shopping experience. Look no further than Fred Beans Chrysler Dodge Jeep Ram.
Ram trucks have long been known for their rugged durability. More and more, people are seeing these vehicles not just in commercial terms, but for everyday use. With a comfortable ride and a large cargo and towing capacity, trips around Bucks County can be a breeze in a new Ram truck. To learn more, be sure to check our Vehicle Reviews!
The staff at our dealership are specially trained to talk with our customers and help them match their needs to the vehicle that best fits not only their lifestyle, but their budget. We have a huge inventory of Chrysler, Dodge, Jeep, and Ram vehicles in a variety of trim styles, so we can definitely find a car that you are comfortable with.
Ram Dealer near Jamison PA
The best way to experience a new vehicle is to come check it out in person. Simply call our dealership or contact us online, and we can answer any questions or set up an appointment with one of our friendly sales staff members.
Of course, we know that a large part of the car-buying experience is the financing. Our finance department wants to help you, no matter your budget or financial circumstances. We have great relationships with banks and lenders to give you the help you need to afford the car you want.
Our namesake, Fred Beans, has operated a family-friendly business for over 35 years, and his values are reflected in Fred Beans Chrysler Dodge Jeep Ram. If you're looking for a Ram dealer near Jamison, PA, we invite you to stop by and say hello. You'll love our dealership, and you'll love spending some time in lovely Warwick Township.